The 2015 Canadian National Karate Championships were held in Richmond, BC. from January 30 to February 1, 2015.  The tournament consisted of 334 competitors, 59 referees, and 41 coaches from across Canada.  The Karate NL Provincial Team (consisting of members from Avalon Karate and Tsuruoka Karate) took part in this tournament, and we are proud of their efforts and accomplishments.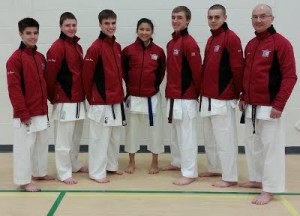 L-R: Tyson Besso, Jason Ward, Nathaniel Besso, Samantha Au, Chris Coady, Lucas Menard, Coach Ryan
The provincial team brought home 2 gold and 1 bronze medal from this past weekend!
In the Kumite Individual male Cadets +70 division, Christopher Coady took gold, and Jason Ward took bronze.  In the Kumite Individual male Juniors -61 division, Nathaniel Besso took gold!
Congrats to all members of the Karate NL Provincial Team.
A complete list of events and results can be found here.
Tournament Results